Have you installed skylights with fondness in your home but are still been unable to enjoy the clear view of the bright sky? With time the stuffed dust, cobwebs, and dirt have covered your sky vision while hindering the passage of natural light into your sweet home; the ventilation and warmth of the house would also be affected; now it's the moment of getting rid of the worry and shine thoroughly. Being fixed on the roof, they might have a tough time during their cleanliness process; however, if you neglect their neatness for a more extended period, you will ultimately end up with a blurred exterior vision, as they will no longer serve as transparent but turn into a cloudy cover. Hence, clean skylights are very important as they will lose their purpose otherwise. Thus, their proper maintenance is a prerequisite.
Although they serve as windows on the roof, special care is needed as their material is not made up of glass instead of a mix of plastic and other synthetic materials; thus, the application of commercial glass cleaners for their neatness will be damaging and may cause scratches on their surface. For more information read our article window cleaning
How to Maintain Skylights?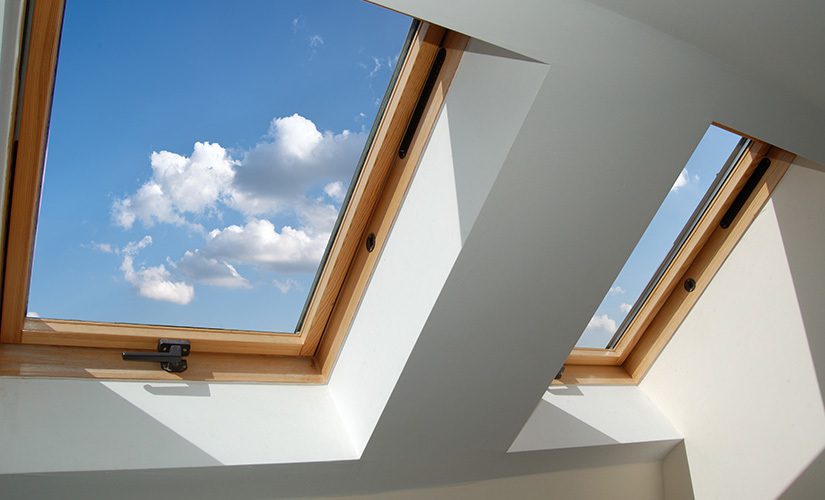 They are directly associated with your home's cooling and heating system; if not fixed properly, they may cause the escape of heat during winters and allow the outdoor warm air inside your house. Hence the cautious approach is needed while fixing them on your roof, ensuring a complete fixation through an expert check. It is suggested to use the updated designs and models. Regular cleaning of your valuable skylights is mandatory, no matter how costly they are; if you have not made a habit of cleaning them in intervals, they will lack their luster, and you will be left with a cloudy view.
How to Clean Inside of Skylights?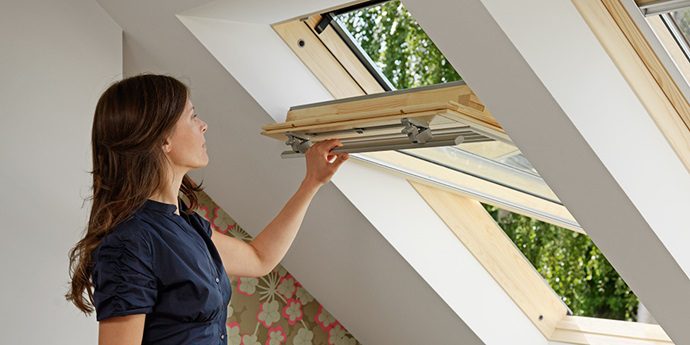 Before the initiation of the cleaning process, make sure that you have taken all the preventive measures. Please start with the covering of furniture with a tap, or displace them to a safe point so, that they get saved from the downwards tickling of solutions and the sticky dirt.
The next move should be to place a tarp on the ground just below the skylights to save your carpet from dirt.
The Required Material for the Deep Cleaning of Skylights:
An Empty Bucket
Lukewarm Water
White Vinegar
A Good Quality Dish Soap
Rage, or Microfiber cloth
Power Washer
Ladder
Sponge
Step Wise Process of Skylights Cleaning from Inside
First of all, adjust a ladder to reach them, now starting wiping them with a clean rag to eliminate the surface debris and dirt. For this process, a rag attached to a long pole would be permissible to wipe away all the sticky dust, dry debris, and cobwebs. You can also use a dry mop or a long broom instead of a rag.
Next, you have to make a solution and half fill the bucket with lukewarm water with a liquid detergent. Now take a clean rag and dip it in the solution, be wise in keeping the rag over a bucket of water to reduce the dripping on the floor. Make sure that you have made a foamy solution for the removal of dirt scuffs.
Now, it's time to wipe the interior of your skylight to remove the accumulated grime. Clean it side by side and moving upwards and downwards. It's better to wipe it down in a zig-zag motion. Since the skylight interior is not dirty much primarily, its cleanliness does not demand much time and energy.
Note:  Not to poke the material with your pole, or scrub it harder. Could you not push it forcefully?
4. Finally, mob it out with the help of a clean microfiber cloth attached to the tip of the pole
How to Remove Tough Grime from Skylights?
Sometimes, a regular cleaning mechanism fails altogether to remove the stubborn stains, especially the grime. It would help if you did not feel trouble, remove them with the help of this simple solution.
Prepare a mixture by taking white vinegar and water in a 1 to 2 ratio. When you have finished with the regular cleaning process, dip a clean rag in the solution and rub it gently on the spots. The high cleaning properties of vinegar and very effective for the removal of residue or obstinate stains. It is very effective, especially for greasy skylights, to remove the oil quickly. If you fail in the first attempt, add more vinegar to the solution, and give it a second try.
How to Clean Outside of Skylights?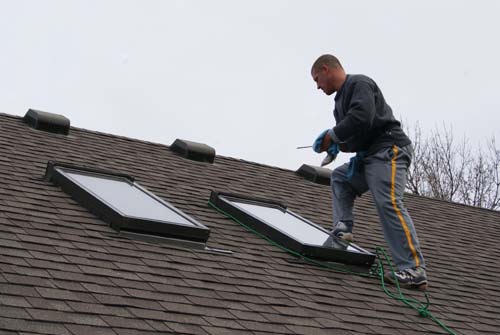 Approach them by setting up a ladder. Be careful while setting the ladder; you may fall on the ground if you have not balanced it on even ground.
Stepwise Process to Clean Outside of Skylights
At first, take a towel to wipe away all the surface dust. Being exposed to the harsh weather patterns, bird's waste, and atmospheric dust, there is a high probability of accumulating excess filth, like web, spores, dirt, animal residue, and rocks. If simple wiping fails to remove the debris, the application of a power washer is admissible.
In the next step, take a soft sponge, and dip it in the solution. Now gently rub the sponge on the material. Start the process from the top, and with care and effort, rub the rain buildup, grime, and cloudy residue, and move downwards to prevent the already cleaned areas from the dirty dripping.
Note: Avoid using the cleaning pad with abrasive cleaning pads to avoid any damage or scratching.
To remove hard residue, make a saturated mixture of water, and vinegar, rub it on the leftovers, and gently wipe it out to lighten the tough marks. Afterward, clean it with the regular soap solution.
Lastly, rinse it with clean water and dry it by rubbing a dry microfiber cloth or a good absorbent towel. However, it is also suggested to spray the skylights through the hose nozzle.
Note:  The summer cleaning must include the deep cleaning of your skylights, like the winter and spring rains have put their marks on the skylights.
Effective Tips to clean skylights
It is better to clean the interior, dry it well, and then move to the exterior.
Never Scrap harshly to prevent marks on the material. For more stubborn stains, use a commercial cleaner specifically for the skylights, read the preventive measures and the application mechanism.
Use an absorbent sponge to remove the loose marks.
It is wise to approach determining the kind of material of your fiber. It might be a regular glass or a Plexiglas before the selection of market cleaners.
Always polish your skylights after a thorough cleaning to avoid accidental scratches and lines.
If you have chosen to clean your precious skylights by yourself, you might feel anxiety as they are hard to approach and difficult to completely clean while maintaining your balance and ruining your floor or furniture. If you have decided to get benefited from the professional work, then try Global Cleaning Services. You will experience quality cleaning services at highly affordable prices.