Since Sofa is the most used and abused part of the furniture, sticking up dust and dirt, stains, and spots are not an exception. Accidents happen at any time. It might happen that you are enjoying a movie at night but unconsciously spill your drink on the couch, or it is also apparent that your kid has treated your couch as a drying pad, or your beloved pets can create a horrible mess. No matter how much care you adopt to keep your couch clean, it will eventually stuffed with dirt. It is more panic when your exhilarating Suede Couch becomes victims of the obstinate stains and spills. What will be your action to deal with such a wreaking situation? Cleaning, yes, you choose to clean it thoroughly, but what if, despite a tiresome cleaning job, you still witness spots. We are caring for your effort. The easy method with simple tools will help you out to remove spills effortlessly and timely.
Types of Suede Couches
Cleaning Suede couches depends upon the type of material; synthetically, there are two types.
Natural Suede Couch:
The natural fabric made of leather is preferable due to its durability, beauty, affordability, popularity, and alternate color patterns.
Microfiber Suede Couch: The artificial human-made fabric formed from synthetic nylon fibers and thin polyester presents a silky soft touch. The fibers are resistant to stains and dust in their creation as the surface is less penetrating. However, cleaning might be challenging when the spills penetrate deep, and they carry watermarks challenging to remove.
How to Clean Different Fabrics of Suede Couches: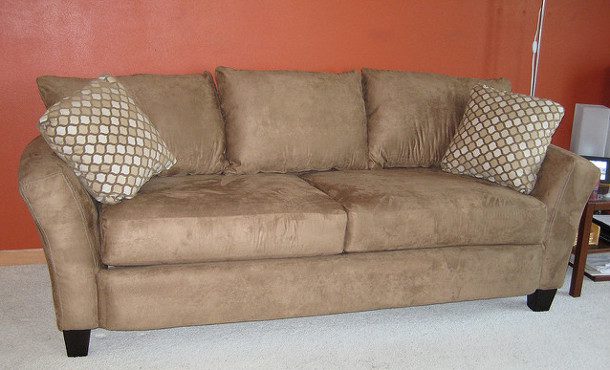 Before purchasing the type of suede, it is a good idea to know about the distinctive stuff nature thus handle them correctly by following the given guidelines. They are available in the market in different forms:
Code S: This type of fabric can be handled through dry cleaning, keep it away from water; you can also use water-free solvents in a deep ventilated environment.
Code W: Can be cleaned through water-based solvents.
CodeX: They are not suggested to be cleaned using water or other solvents; it is better to vacuum them regularly to avoid the accumulation of dirt.
Code W-S: It is easy to handle; it can be cleaned using both solvent-based or water-based cleaning agents.
How Often is a Microfiber Couch Cleaned?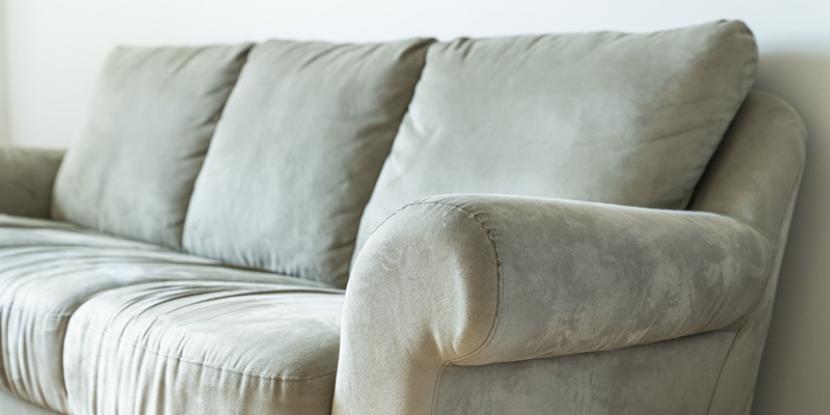 Proper maintenance of the couch is mandatory to maintain its freshness and luster.
Weekly Vacuuming: Thorough vacuuming of the couch is the much-needed approach. It will eliminate all kinds of dust and dirt present on the surface before it reaches the fibers. More care is needed if it has pets access and mostly comes in contact with kids.
Tools and Solutions for Cleaning of Suede Couches:
The aiding solutions are:
Rubbing Alcohol
Baking Soda or Corn Starch
A Dry Cleaning Solvent
Dishwashing Soap
The accessory tools are:
A specialized suede brush
A definite scrubber containing Nylon Bristles
A Plastic Spray bottle
An Empty Bucket
Sponge and a Microfiber Cloth
The Best Way to Clean a Natural Suede Couch: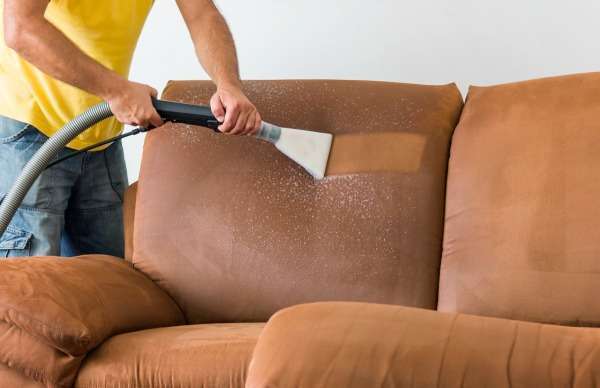 Vacuuming: Start the cleaning process by removing surface dust and dirt, which is damaging to the suede fibers. To avoid any damage, use the upholstery attachment instead of a regular brush.
Tip: Brush your cushion at least twice a week to remove surface dust and to maintain the luster.
Elimination of Stains: The immediate removal of stains is a prerequisite for getting rid of liquid spills like oil. Apply baking soda or corn starch on the affected region, and leave it for 5 minutes for absorption. For the Sticky residue, use the commercial removers. The wet spills apply the blotting process from outward towards inward using a microfiber cloth, then leave for drying naturally. Use a specific suede brush to maintain the luster of the fabric after you have removed the stain.
Tip: Protect your cushion with the application of a protective spray, which will save the stains from becoming permanent stains
How to Clean a Suede Couch in Home?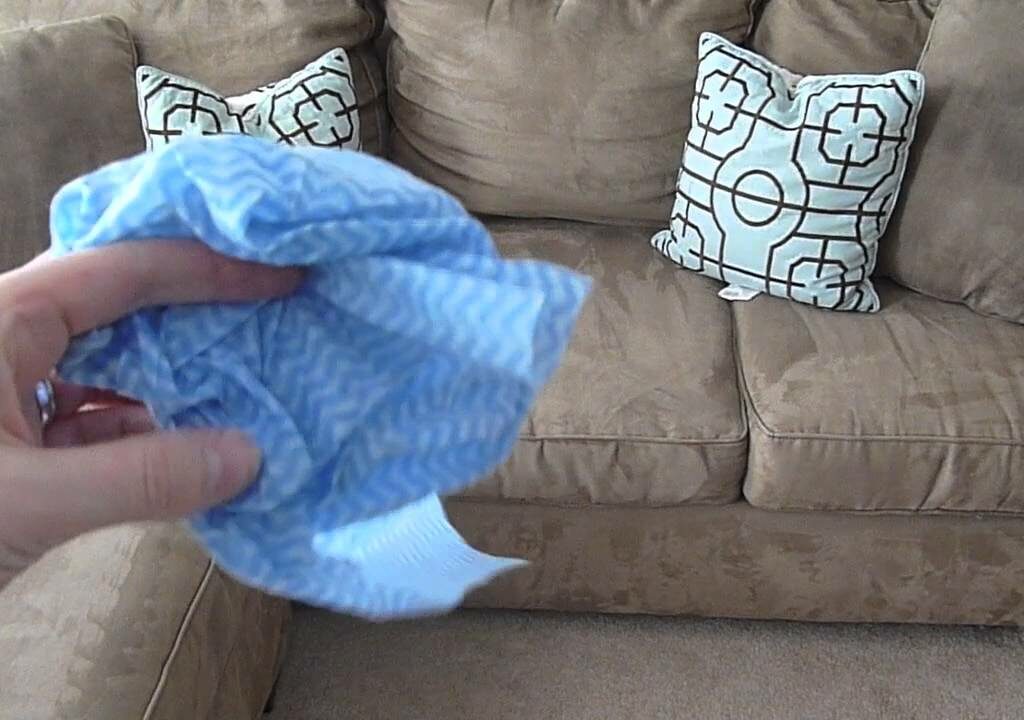 If you want to deal with the stains manually at home, relax, we will provide you best solutions for cleaning,
Formation of Cleaning Solutions: Take an empty bucket, half fill it with lukewarm water, pour a definite amount of liquid dishwashing soap, now take a manual mixture to create studs.
Scrubbing the Stains: Now, take a scrub brush, and dip it in the mixture, gently rub it on the stains.
 Tip: To prevent the dirty, and dripping studs, start at the top of the couch, or the back, 
Rinse the Studs away: Take a microfiber cleaning fiber, dip it in clean water, and dab the region with it; repeat the process with scrubbing and rinsing until the area would be cleaned thoroughly.
Use Alcohol to Clean a Micro Fiber Suede
First of all, vacuum the cushion to remove surface dirt.
Secondly, sprinkle few drops of alcohol on the spill and quickly scrub it as alcohol tends to evaporate immediately.
Now, rinse the spot with clean plain water with the help of a sponge, repeat until the alcohol is entirely removed along with the stain.
Lastly, dry the area with the help of a hairdryer, followed by the vacuuming process.
How to Remove Grease From Suede Couch?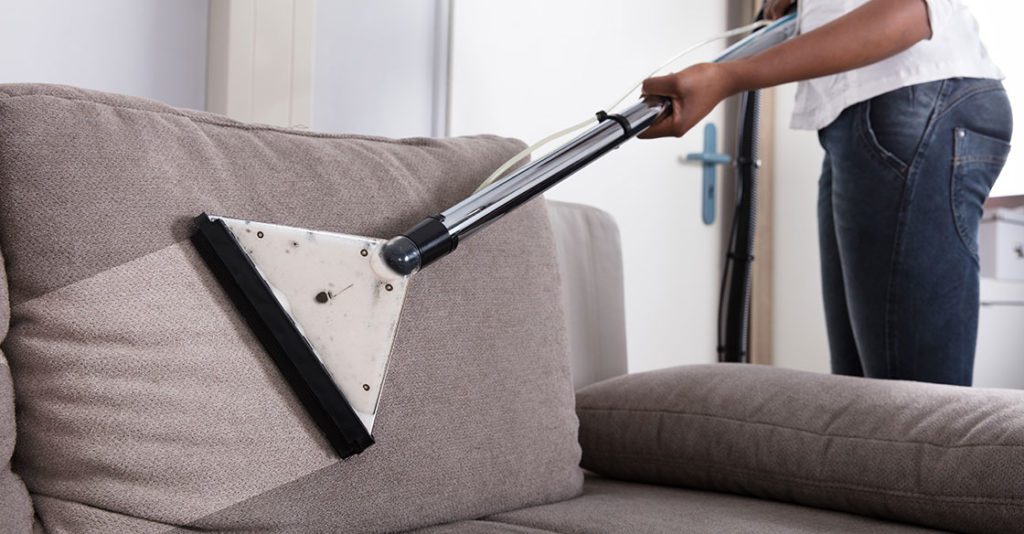 Sometimes, your suede cushion might hosts obstinate grease and oil spots, which are difficult to handle. You need not worry,
Corn Starch:
Immediately, sprinkle cornstarch on the region, hold an old toothbrush, and gently rub the area; it will absorb the surface oil and not let it travel downwards.
Leave it for at least an hour, vacuum it at the end.
Repeat the process on the requirement.
How to Remove Chewing Gum from Suede Couch?
Chewing gum not only fascinates kids but adults as well. Thus, there is a chance for your precious cushions to get ruined by the sticky gum. You can handle the matter skillfully,
Treatment with ice cubes: Take some ice cubes in a tightly sealed plastic bag, gently put it on the gum to make it complicated; now, take a butter knife or regular knife and scrape it out, refreeze the remaining gum and continue with the process
How to Eliminate odor from Suede Couch?
If you are worried about the foul smell of your valuable couches, release your anxiety with this simple trick,
Just sprinkle some baking soda bottles on them, and leave them overnight, vacuum them in the morning.
How to Remove the old Stains from suede Couches?
If your decoration has been fainted due to the prevailing old stains on your lovely cushions, remove them single-handedly with this practical trick,
Rub the affected area with the help of a pencil remover. You can also apply commercial suede erasers; after the job brushes the scuff using a soft brush, perform regular vacuuming. If it is not perfectly working, it is better to avail professional services; our Global Cleaning Agency offers perfect cleaning services, with a single call, while maintaining high quality on an affordable budget.