How it feels that after spending hours scrubbing and wiping your pans, plates, and cups, you are not sure about the microbial presence in your cleaned dishes. On the other hand traditional cleaning helping hands like the scrubber, and scotch consumes your valuable time, and additionally gift your persistent back pain. Make the job much easier for you with the delicate dishwashing brushes specially designed for specialized cleaning of your precious dishes. Since your ordinary sponges provide the best spot for bacterial growth and reproduction, so they are not the hygienic way to give a thorough wash to your dishes.
The updated dish brushes are designed with durable bristles to facilitate powerful cleaning. They dry up quickly and are less prone to bacterial invasion. Thus, they are preferable over the sponges. Now the problem emerges on picking up the best one, which is more adaptable and delivers high performance during cleaning.
Let us have a cursory look at the general characteristics of the best cleaning brushes. They have flexible bristles made up of mostly natural fibers or plastics. Their adaptable design enables them to reach the bottom line of your glassware, and ensure effective removal of the sticky stuff on your pans, and pots.
We have picked some fascinating dishwashing brushes which would go well with all of your dishwashing needs.
Kitchenmaid Classic Soap Dispensing Sink Brush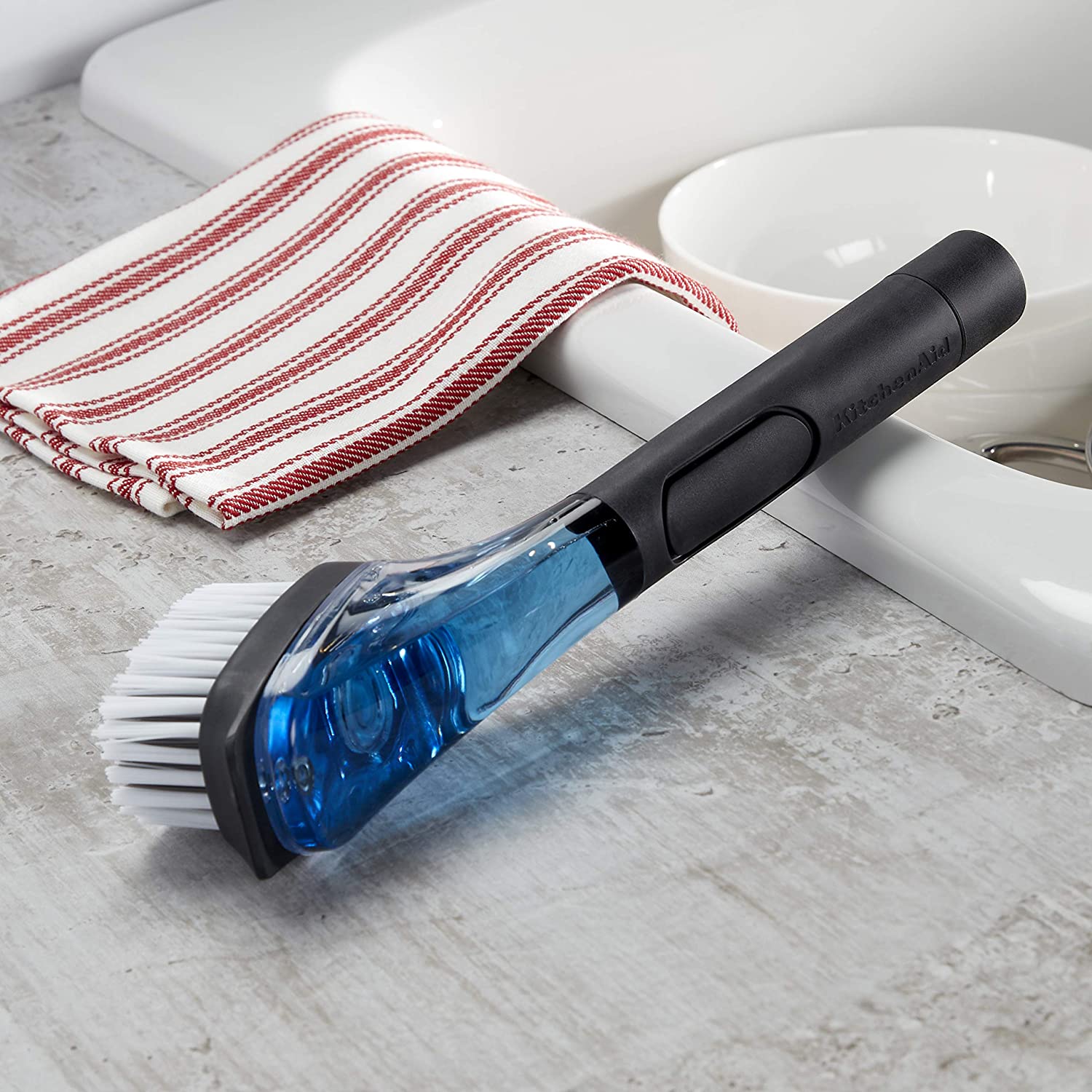 This brand is known for its modern design and distinctive appearance which enhances the classic outlook of your kitchen. You can choose your favorite color product.
Pros of the Product:
It has multi-purpose features equally applicable for different dishes ranging from non-stick, iron cookware, glassware, pans, and pots.
The non-slip handle is easy to use even with dry, and soapy hands. You don't need to put much force to remove stains from your dishes. If you have to clean a pile of dishes, double the soap amount in the soap champer.
Its head is easy to remove, you can turn it around and replace it according to your need. Moreover, it is highly durable as it is constructed with BPA-free plastic material.
Its soft nylon bristles provide resistance against any kind of deformation when you go through a tough scrubbing. Its hanging loop enables its easy storage, enjoy easy, and safe dishwasher cleaning.
Cons of the Product:
If its bristle head undergoes any damage, then you won't be able to find its replacement.
Its price might not be suitable for your limited budget.
Mr. SIGA Soap Dispensing Dishwashing Brushes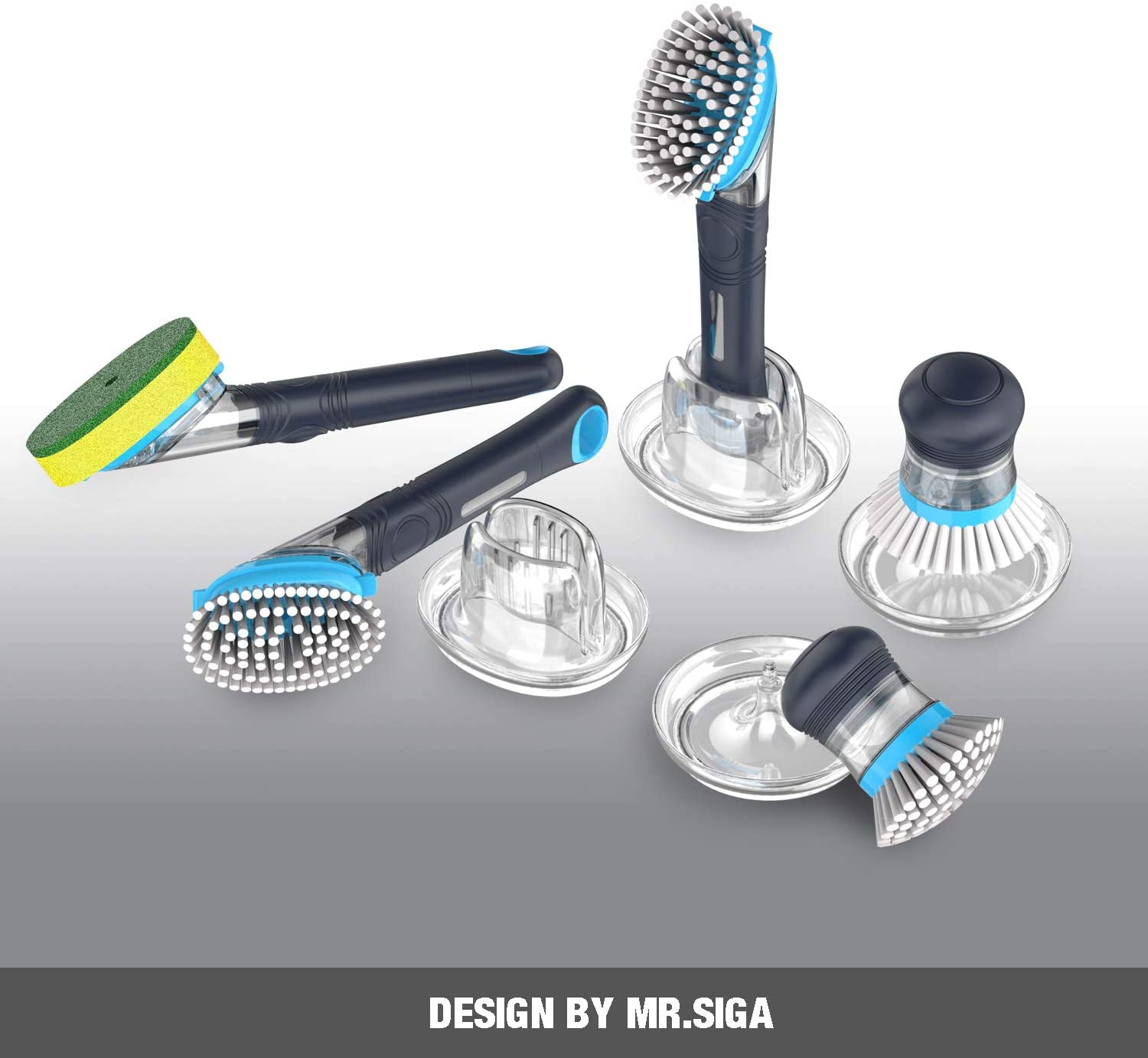 Enjoy the benefit of two dispensing brushes at a reasonable price, you can simply use one for the delicate dishes, and the other for the heavy dishes. To use it just turn the loop at the end of the handle in an anti-clockwise direction and fill it with the soap solution and close by turning it in the clockwise direction.
Pros of the Product
Its non-scratch-able nylon bristles are also odorless and highly durable which facilitates easy scrubbing of the dirt and thus fit for non-stick cookware.
You can easily wipe out the stuck-on food with the help of the scrapper built-in at the back of the brush. Furthermore, the head can be replaced and removed without putting in much effort.
TPR material has covered its handle making it easy to use without any slippery trouble. It fits easily in your hand for a thorough wash. Moreover, its head is easily replaceable you can use it as a brush head, or a sponge head.
Cons of the Product
You might get in trouble while filling the dishwashing liquid, as the mouth has a narrow opening.
If you use it for a long interval you might witness the head sliding.
OXO Good Grip Palm dishwashing brushes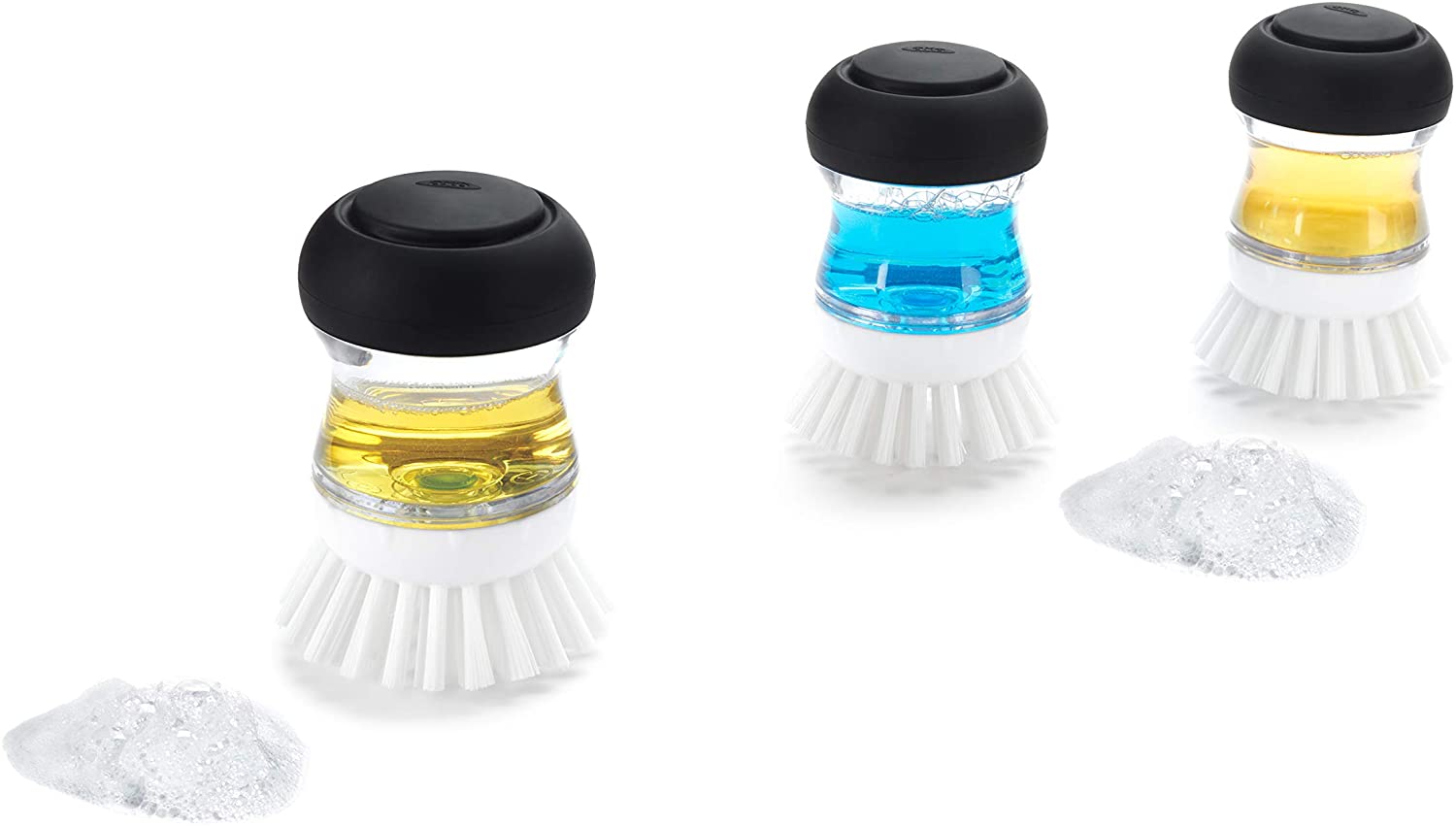 Potentially suitable for all kinds of dishes, best for the sharp edge dishes, thus ideal replacement of the old sponges. It is simple to use, you just need to unscrew the cap on the head, you can control the dispensation of soap by pressing the central button at the top. After the engagement, the leak-proof seal prevents any wastage of soap.
Pros of the Product
The brush contains nylon bristles which enhances its durability, is the best solution for the back-on food dirt, and is carefreely useable for non-stick cookware. 
A convenient brush handle will prevent slipping during the washing process, it provides you a continuous flow of soap, and you don't need to approach your dish soap bottle time and again. 
Its holder also carries a drip tray which is easily removable with a built-in pour spout. It has a non-skid base for better handling of sudsy soapy water.
Cons of the Product
It has been specially designed for flat dishes like plates, and pans but you might face difficulty while going through the cleaning of narrow mouth items like cups.
It has a single head thus you have to spend extra on other replacements.
Dawn Fillable Kitchen Brush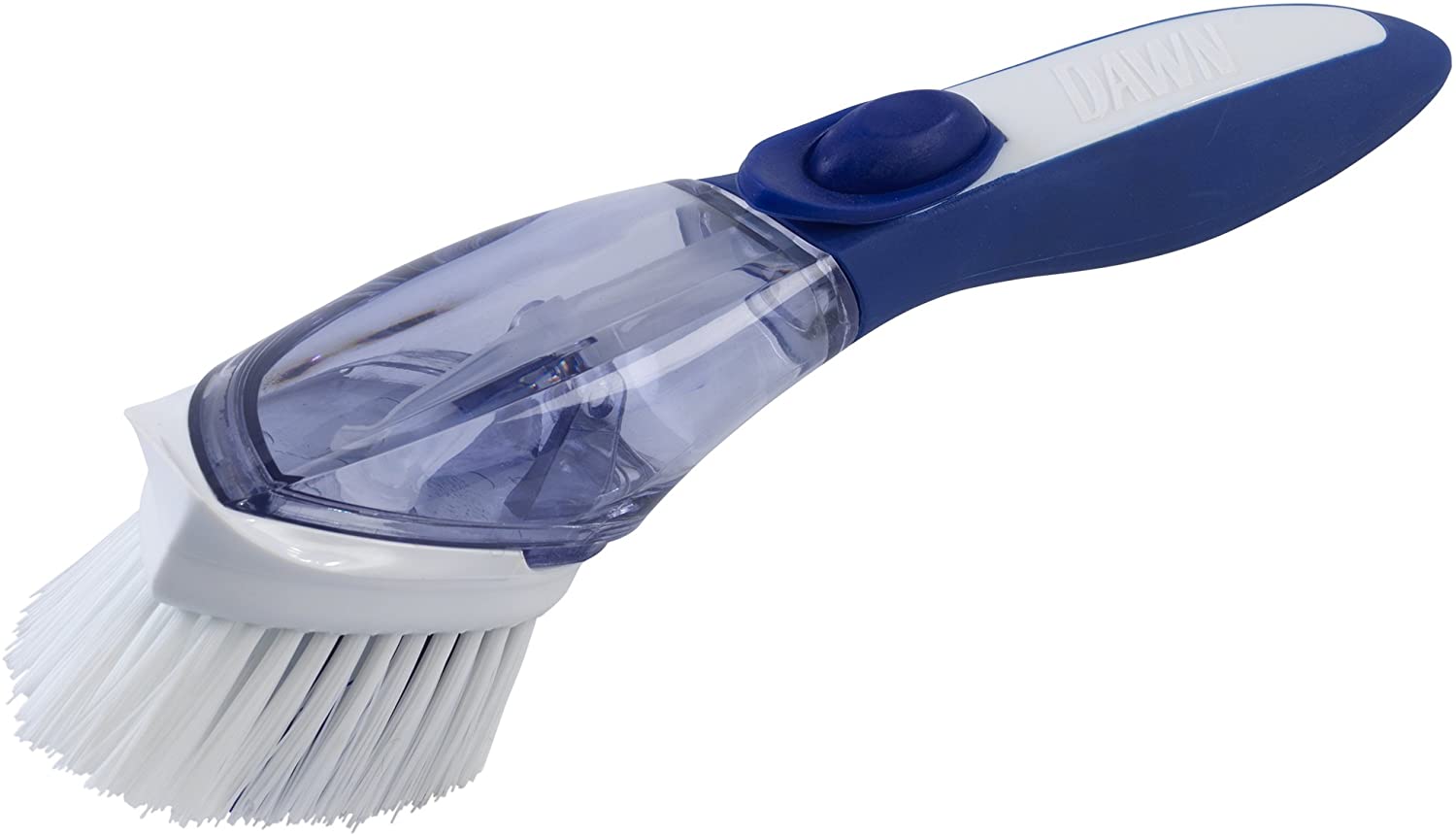 Dawn brand is known for the best cleaning products in Market, their dishwashing brush is adapted to lessen your scrub time on your dishes.
Pros of the Product
Provides you a soft contact on the handle thus washing process goes on smoothly without putting in much effort. It is non-slip even with soapy and dry hands.
You can save money with its non-leaking capability, it helps you to preserve the dishwashing soap for a longer duration by preventing its wastage.
Its bristles are designed to perform cross action, which can easily scrub away the baked-on foodstuff on your dishes.
Cons of the product
It has a relatively large head which is not suitable for narrow-mouth items like cups, pots, and other small dishes. So, you have to think about a good replacement for your narrow dishes.
ANIX Soap Dispensing Palm Brush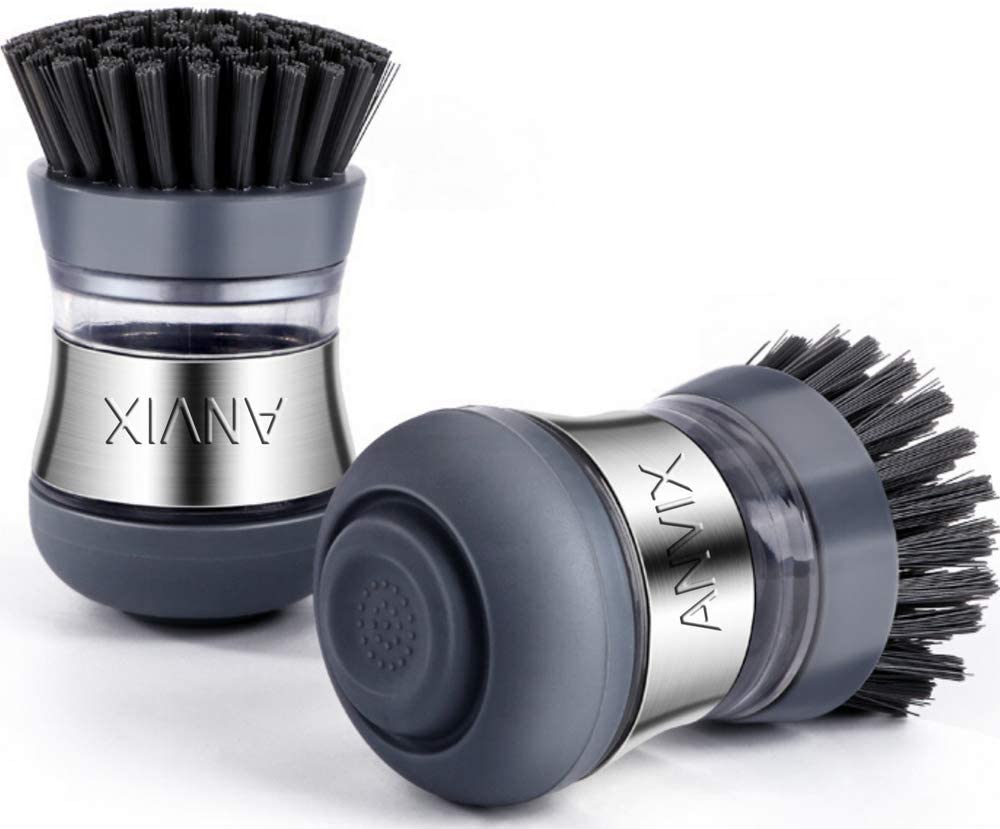 This product has a set of 2 small brushes which can be easily held, so you can comfortably carry on the dishwashing process. The two brushes offer you the best choice to carry out washing on a variety of dishes from pans, pots, glassware even the countertops, and sinks.
Pros of the Product
You have to simply put the soap on the specialized chamber on the head which releases the soap through the bristles with just a simple push of the button at the top. It restricts the direct contact of your hands with soap. 
Its body has stainless steel covering with an easily replaceable, and removable head, and also carries a rubber top for any extended use.
You can easily check the soap quantity through a transparent bar, thus you can put it according to your need
Its great scrubbing job lies in its design. It is small in size and rounded body which better suits your dish's structure.
Cons of the Product
Since its size is small so, you have to fill the soap chamber in intervals which becomes problematic when you have to wash a pile of dishes.
To get professional help you can visit us.